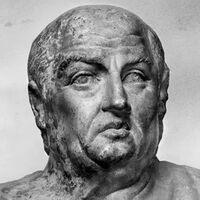 Seneca the Younger
Lucius Annaeus Seneca the Younger (c. 4 BC – 65 AD), usually known mononymously as Seneca, a Stoic philosopher of Ancient Rome, a statesman, dramatist, and, in one work, satirist, from the post-Augustan age of Latin literature.
The person does not exist to whom you cannot do good.
It is difficult to bring people to goodness with lessons, but it is easy to do so by example.
Life alone is not good. Goodness exists only in a proper, virtuous life.
Your will is not good until you have changed the habits of your intellect, and they will improve only when they follow the eternal laws of life.
God is close to us, he is with us: the divine spiritis inside of us. If he were not, the power to he good would be beyond our reach. A person cannot be good without God.
There is not a single soul that can be good without God.
Contemporary science cannot teach you about God and His virtues. The sciences cannot make you virtuous, but they help you on your way.
The divine spark lives in all of us, and perpetually strives toward its origin.
Nature requires small things; the existing law requires many excessive things.
Do not be interested in the quantity of people who respect and admire you, but in their quality. If bad people dislike you, so much the better.
The language of truth is always simple.
Good thoughts which originate from the hearts of men are as useful as good examples.
You should think in such a way that everybody could look into your soul and see what is transpiring there.
Nature created us related to each other, from the same material, for the same purpose. Because of this, somewhere within all of us is mutual love for each other.
He who does good to others makes the biggest gift to himself.
There are too many mediocre books which exist just to entertain your mind. Therefore, read only those books which are accepted without doubt as good.